September is a month that has many emotional implications. On the one hand, the long-awaited vacation is over for most. It seems incredible that a time we want for so many months goes by so quickly. The good thing is that we squeeze it to the maximum trying to lengthen and lengthen …
On the other hand, this summer month gives us still good weather and energy to do still activities outdoors and retain that holiday feeling to the fullest. We try to meet friends and colleagues to explain the good times and enjoy new ones. Do we ride a bike along the promenade and have a drink before going home?
However, time, that measure that conditions our life, does not stop, and September also means going back to school for children and adults. In fact, there are two very specific dates in the year in which we consider "beginning of the cycle", which are January, as the first month of the new year, and September.
So it is time to use the batteries we have charged to meet the new challenges of this period.
September invites , also on a professionally basis, to extend this feeling of living outdoors, to take advantage of the great weather we have in the mediterranean and the wide range of spaces available for incentive trips or motivational getaways for the team.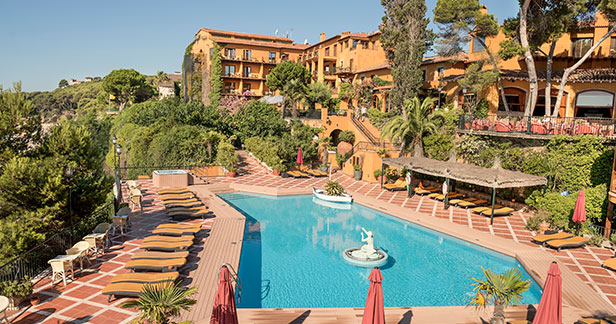 The hotel.
The Rigat Park Hotel & Spa proposes in Lloret de Mar, a few kilometers from Barcelona, ​​live the Mediterranean in its fullness. Located on the seafront, it allows you to enjoy indoor and outdoor spaces for formal meetings or with a more informal character. Rooms full of natural light to enjoy the magnificent colors of September.
Pool to awaken the senses, for early sunrises, for breaks.
Spa to re-find your sensations, moisturize your body after the dry season.
Gastronomy to satisfy the desire to try new delicacies
The sea.
A step away from the hotel garden, Fenals Beach, one of the best in LLoret. A space to practice yoga, do taichí, create a pirate role activity…
In addition the sea offers us an excellent way of communication …, arriving at the hotel by boat can be fabulous. Or organize a boat trip from this point.
Complementary options in the area
And if we want to leave for a few minutes this oasis you can visit the city of Girona . The "City of the Four Rivers" shows us a historic center dominated by medieval buildings and reminiscences of Roman, Arab and Hebrew. Walking through its historic center is a pleasure.
Another possible getaway is Besalú , a villa located on an important and traditional crossroads east of La Garrotxa. It has a medieval historical-artistic complex considered one of the most well preserved in Catalonia. The majestic Romanesque bridge over the Fluvià River is a must see and one of the main vestiges of Besalú County.
A meeting, an incentive, a pending motivational getaway? Call us, we give you ideas.